Photo with 8 notes
D&D's next edition has been announced, there's been a lot of buzz about it, especially over 4th edition's demise. Some folks blame 4th edition as a failure, decrying it as being untrue to the D&D name. Even 4e seems abandoned Wizards of the Coast, hated and hunted.
But I know better, I know the truth. Let me tell you what 4th edition is:



[Mearls down to where 4th edition lies unmoving next to Rich Baker's body]
Mearls's Son: Dad! Dad, is he okay? 
Mike Mearls: [relieved as 4th edition slowly pulls himself up to his knees] Thank you. 
4th Edition: You don't have to thank me. 
Mike Mearls: Yes, I do. [both look at Rich Baker on the ground] Monte Cook's won. Baker's well written and informative articles, everything he fought for - undone. Any chance you gave us at fixing our game dies with Baker's termination. We bet it all on him. Monte Cook's took the best of us and tore him down. People will lose hope. 
4th Edition: They won't. They must never know what he did. 
Mike Mearls: Five dead, two of them grogs? You can't sweep that up! 
4th Edition: No. But Monte Cook cannot win. [kneels down next to Baker, whose scarred left side is facing up] D&D needs its true hero. [turns Baker's head so that his unmarred side faces up] 
Mike Mearls: [immediately understanding] No! 
4th Edition: [quoting Rule of Three] "You either die a hero, or you live long enough to see yourself become the villain." I can do those things because I'm not a hero, not like Baker. I killed those grognards. That's what I can be. 
Mike Mearls: No, no! You can't, you're not! 
4th edition: I'm whatever D&D needs me to be. [hands Mearls his radio] Call it in. 
Mike Mearls: They'll hunt you. 
4th Edition: You'll hunt me. You'll condemn me, set the dogs on me. Because that's what needs to happen. Because sometimes… the truth isn't good enough. Sometimes people deserve more. Sometimes people deserve to have their faith rewarded. 
[4th Edition runs] 
Mearls's Son: 4th Edition? 4th Edition! Why is he running, Dad? 
Mike Mearls: Because we have to chase him. 
Mearls's Son: He didn't do anything wrong. 
Mike Mearls: Because he's the hero D&D deserves, but not the one it needs right now. So, we'll hunt him, because he can take it. Because he's not our hero. He's a silent guardian. A watchful protector. A Dark Edition. 
Post with 4 notes
I've been enjoying D&D4e, I like having lots of options for my characters to pick but sometimes going through all of 'em is a hassle. Especially between classes. It just bugs me that a Ranger and a Fighter, both martial heroes, will have entirely different powers that amount to a pretty similar effect like "You hit the guy a bunch of times". 
I'd like to see a general list of Martial Powers that everyone with that source can draw from. You can still keep them different based on how they interact with class features and also simply adding "If you are a Fighter…" or "If using a light blade…"
Say, an attack that does "2[w] , target is dazed"
-"If you are using a light blade, this attack targets reflex"- appropriate for Rogues, yes?
-"If this target is your quarry, make one additional attack against this target"- Hey, now its a Ranger power
-"If the target is marked, they are slowed after the daze wears off"- Contributes to Defender stickiness!
-"If you are a Warlord, an ally attacking this dazed target gains +X damage, where X is…" Warlord says "attack this dizzy guy!"
Functionally, nothing really changes, but for me it just becomes more readable, less space is taken up. This also leaves more room for illustrative art, have a guy getting whacked in the head and stabbed in the side. The perception of the power's value increases. Instead of thinking "man, this is the same as that Fighter/Ranger/Rogue/Warlord power…" you think "Hmmm, I'm a Fighter, but this warlord option is also interesting…". It's worth increases fourfold. Interacting with Multiclassing… you could then get two benefits. Now your Fighter/Rogue has a brutal sneaking daze that leaves the foe feebly crawling away.
I like playing Street Fighter. There are attack types that get repeated such as the fireball, the anti-air uppercut, the spinning piledriver, etc. But they feel quite different on every character due to the minute differences between them and how they fit in their overall move set.
Another great part is how attacks naturally fit together. Say, Ryu has a leaping kick that can bounce his opponent off the wall and right into a dragon punch. If i were to dramatically rebuild the 4e system, I'd make encounter powers riders on At-wills (with the choice of doing the opposite too), so the combo effect comes into play. You could keep unique at-wills between the classes as there's only 2-3 that never change, but share encounter/dailies with additional effects based on class abilities. This is what I find to be a good combination of "Class Distinction"+"Power cohesion"-"redundancy"
Post with 12 notes
Sometimes I read about daily/martial encounter powers, and often the argument "It's immersion breaking!" or the more specific "It's not realistic!" comes up:
"If a fighter can do that, why can't he do that ALL THE TIME?"
The first point is fairly easy to argue:
1) narrative, this is when the spotlight shines on you. When Conan swipes off the giant snake's head in a single blow, Robert E. Howard was using his PC's Daily. It's the PC using his own token of agency to affect his fantasy world. 
2) 'realism'. I don't really want to use that word for Fantasy Dragon Dungeoning… but crazy athletic feats can get pretty tiring. Hitting a monster 9x harder than you normally can is one of those tiring things. 
When arguing with someone and trying to change their mind though, it's good to have proof, so this thread is about some 'proof'. I remember reading something about how human muscles use 3 energy sources, the time it needs to recharge for peak performance, etc. (I'm a mixed martial arts enthusiast and was looking at training routines)
So I did a little research and found it again. It's about the 3 kinds of energy our muscles draw from and their limitations. 
Highlights on the parts relevant to the topic. 
Three systems produce energy in the human body, one aerobic and two anaerobic. They are:
· ATP/CP system - anaerobic. 
· Lactic acid (LA) system - anaerobic. 
· O2 system - aerobic. 
The ATP/CP system. 
It is anaerobic because whilst using it, oxygen is not supplied from the air breathed in. Adenosine triphosphate (ATP) is a compound necessary for muscular contraction. The compound is stored in the muscles and a very quick contraction, lasting only a fraction of a second uses it all. For an exercise lasting longer than this, another compound called creatine phosphate (CP) is used. CP can provide a muscle with virtually instant energy without the need for oxygen. It is the muscle's emergency system, but it is stored in only very small amounts and so is depleted very quickly. 
In an untrained person ATP/CP is exhausted in about 8 seconds. Through proper training it can be made to last only a few more seconds. Anything requiring short bursts of energy at maximum intensity relies heavily on this system. (like an encounter or daily power)
It takes about three minutes of complete rest to get a fairly full restoration of ATP (so, once per encounter). Proper training to maximize ATP/CP would be short bursts of 15 seconds or less at maximum intensity, with rest periods between short bursts of three minutes or more. 
2. The lactic acid system (or the anaerobic lactic system) - LA system. 
This system can also supply the muscle with energy in the absence of oxygen. But it uses glycogen and because of the lack of oxygen, lactic acid is formed. Intense activity of a muscle causes this system to operate at a high level until eventually the build up of lactic acid inhibits the muscles action and causes it to slow down. The blood system removes lactic acid to the liver where it is detoxified. During a recovery period the muscle regains its ability to function. The period of time that the muscle can support this type of effort is up to two minutes. An example of an activity of the intensity and duration that this system works under would be a 400 m sprint (or perhaps an Encounter with a dragon) 
3. The aerobic system (O2 system). 
This system utilizes breathed in oxygen in the muscle and thus interacts with the cardio respiratory system. The presence of oxygen in the muscle allows stored foodstuffs (mainly glycogen but also protein or fat for very long duration exercise) to be transformed into muscle energy by a series of reactions which avoid the production of lactic acid. The O2 process can therefore continue for as long as the energy demands of the muscle are within the capabilities of the oxygen delivery system and the food store. Lactic acid may well have been built up in previous work bouts because the LA system may have been used first. But in this case transferring from the LA system to the O2 system will allow the lactic acid to somewhat dissipate. 
This can be used to explain the difference between an At-Will and Encounter power. 
So we could say a 100meter dasher is somebody with a movement Encounter/Daily power
a 400meter runner is someone who has an at-will movement enhancing power
a marathon runner has skill training Endurance or some other power that enhances daily travel limits. 
As for dailies, well note that even with a 3 minute rest you don't get absolutely 100% restored, nor is strain removed. Athletes have some pretty intense, lengthy recovery processes after games like massages and ice baths. The body can only take so much strain, and will fail when pushed too far (For example, power lifters have been documented crapping out their intestines when their bodies can't take the strain of the weights they're trying to lift). There is also mental fatigue to consider. 
Ask any physical trainer though, and they'll agree the important part of recovery is to get a good night's rest. 
*(In something as stressful as combat sports, it's often months before the fighter's next match to make sure they're close to peak performance)
I'm not saying '4e is completely super realistic', but there is some real-world relevance to how it goes about things. If it helps in the immersion of your fantasy dragon murder-looting, then enjoy. 
Photo with 11 notes
There's a criticism of D&D4e that often springs up after you've played it for a bit, that combat takes too darn long, the monsters have too many hit points, do too little damage, and after the dailies are burned up it's just at-will attrition. Now, the latest Monster Vaults have done much to remedy this problem with rebalanced monster stats but it still leaves three previous books filled with 'flawed' monsters, or some people still want things to go faster.

Here's my shot at solving the problem, it's not just a mechanical solution to a mechanical problem though, it is a solution that also aims to enhance the gameplay experience of murdering stuff to take their stuff:
"When bloodied, you suffer max damage." 
 Instead of rolling dice, it just maxes out. 1d8 becomes 8, 2d6 becomes 12. 
This change not only makes stuff die faster, it enhances tension of getting bloodied. It's intuitive too, when you hear 'bloodied'/'wounded', you think VULNERABLE right? Yet right now in D&D4e being bloodied doesn't really do much other than activate a few specific powers. It has no inherent effect, so I've added this inherent effect. MAX DAMAGE is just waaay sexier than "+X on arbitrary power ability" y'know?
MAX DAMAGE TO BLOODIED PC'S makes the players go "OH SHIT!!"
MAX DAMAGE TO BLOODIED MONSTERS makes the players go "F YEAH!!"

This also encourages people to not just blow away their big daily/encounters on Round 1 and gives new energy to some powers considered unoptimized. Take a look at the Wizard's Fireball. With the "bloodied= Max Damage" system, if you lower two monsters to bloodied then this pure-damage blast has the chance to just annihilate them. It's a dramatic finish isn't it? It FEELS like what a fireball SHOULD DO right?

It's not just about the mechanic effects of shortening combat, but enhancing its emotional appeal.

So try it out, "When bloodied, you suffer maximum damage" and see how it enhances your D&D experience. 
Post with 9 notes
Don't worry guys, I'm a Prone Shooter
Let me tell you about Feats. A specific Feat. A Specific Feat from Paizo's Ultimate Combat for Pathfinder.
This Feat is Prone Shooter. Let me tell you what Prone Shooter does.
It puts you into the mindset of The Prone Shooter. You go prone, you lie prone, you are thinking "I am a Prone Shooter" and you shoot with all the clarity Prone gives to the Prone Shooter.
Your buddy glances at your character sheet. He sees "Prone Shooter", he knows'damn, that guy, he is a Prone Shooter, I better watch out when he falls prone, he still shoots!'

Yeah, that's damn right, it's On Your Character Sheet.

You didn't even need to say anything, that's real roleplaying right there, it's dialog without dialog like a gritty western, very thematic.


Sure, you might have imitators, that guy over there might also be prone and shooting, but you know what? He's just prone and shooting, he's not a Prone Shooter, it's not on his character sheet. What he does is mundane. What you do, it's a heroic FEAT.

For roleplaying immersion, it's a world of difference. But some min/maxing GOON wouldn't understand.
Because as you can see, in Pathfinder, being Prone doesn't actually affect your crossbow shooting at all.
Post with 3 notes
CLASSIC D&D WASN'T ABOUT FIGHTING MONSTERS
NO
IT WAS ABOUT GETTING RICH. MONSTERS JUST HAPPENED TO LIKE SLEEPING ON MONEY. KILLING THEM IS MERELY THE MOST STRAIGHTFORWARD OPTION TO HAUL OFF THEIR MATTRESS. 
THIS DRAGON IS HUGE
HE HAVE HUGE HORDE
LOOT AND PILLAGE HIS HORDE
THIS DRAGON
HE IS SMALL
HE HAS SMALL TREASURE, SMALL DRAGON STILL DIES
THIS DRAGON KIND OF MEDIUM
TREASURE NOT THAT BIG
BUT GOOD ENOUGH FOR ADVENTURER FIGHT DRAGON

 
KILL MONSTER, GET GOLD
GET GOLD, LEVEL UP
LEVEL UP, KILL BIGGER MONSTER
GET BIGGER GOLD
EVENTUALLY GET CASTLE/GUILD/TOWER/CLOISTER/NATURE RESERVE
SPEND GOLD, GET MORE GOLD
THIS IS TRUE D&D
Post with 11 notes
Final Fantasy XIV is hard on its way to unfuck itself from a mega shitty PC launch, and the new director Naoki Yoshida has been very open with communicating with the fanbase, constantly giving updates on what's next or even answering fan questions. 
This article here he discusses equipment revisions and gives his thoughts on "the importance of Individuality in MMO's" as expressed by equipment. It's a short read.
A few things stuck out to me, notably
If a mage wearing full-plate armor is able to continue to cast spells with ease while being attacked by numerous monsters, I think there is something wrong. In addition, a third person watching this scene will not be able to distinguish whether the player is a mage or warrior. The individuality of the character itself will increase, but the individuality of warriors is lost. It is even safe to say that this game will not feel like an RPG. As a result it is necessary to implement restrictions such as, "mages cannot wear full-plate armor," or, "if mages wear full-plate armor, the gear will have very little effect."
Sure, perhaps if it was D&D. But in Final Fantasy?
MAGIC GUY+PLATE ARMOR= "OH SHIT ITS GOLBEZ"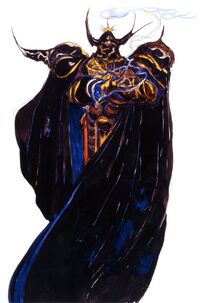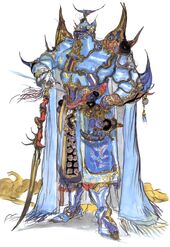 (or that guy who's a tree!)
They are also mighty, mighty, incredibly powerful Wizards. They wear plated swag. They are Iconic Final Fantasy characters.
Final Fantasy wizards wear pretty much whatever the hell they want.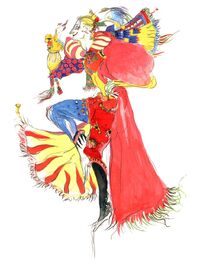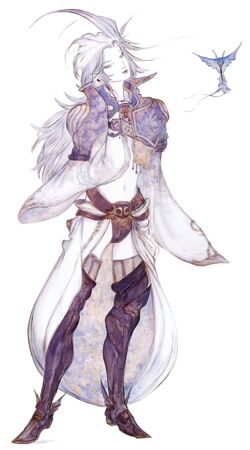 Clown makeup? Sure thing. Thong? You're a goddamn wizard, go right ahead
As long as you got something billowing. Billowing cloth= MAGIC USER YO
Yeah, Yoshida does say it's an 'extreme example' but it's very strange that, of all the examples he gives, none are actually examples from Final Fantasy. Of the questions he asks, he doesn't talk about how Final Fantasy as a series has answered them.
On 'distinctions between warriors and wizards'…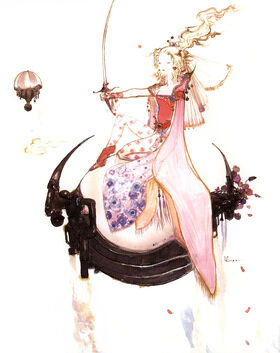 This is Terra from FFVI, the most powerful magic user to be the main character of a FF game. She wields a sword and wears ambiguous Amano armor. I use VI as early on XIV was said to resemble VI in the feel of the world. Yoshida's musings basically ignore this exists.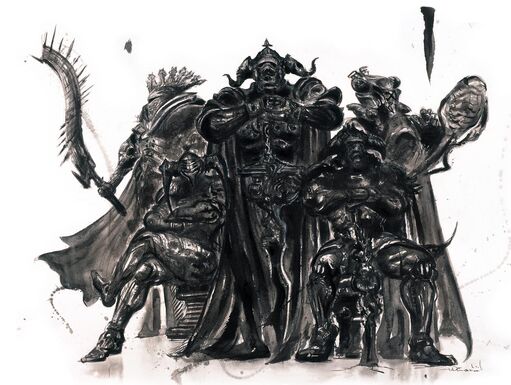 They know magic.
Final Fantasy games for the most part hold character appearance over fidelity to stats. Most FF titles after VI just did away with equipping armor because the character's appearance doesn't change anyways.
I figure Yoshida's just writing to appeal to the western MMO audience. That is what he's been setting out to do, create a western MMO. When he talks about game design and direction, he just mentions 'this is what this WMMO did'. Yoshida has never, ever mentioned the Final Fantasy series as guidance of what Final Fantasy XIV should be.
That's pretty damn weird. 
Post with 2 notes
Sometimes the discussion of 'realism' comes up in games, particularly in combat ('cause a lot of games we play are about fightin'). Maybe discussion is about wound charts or healing tables or whatever (in tabletop RPGS) or the lack of fireballs (in vidya games). But when I think 'realistic combat' I'm thinking more of the feeling it gives. Realism= the excitement of fighting in real life, realism= immersion. I want a game that has the same decision points as when I'm on the mat. That can be elaborated on another day. (by the way the answer is Street Fighter)
The topic today is "what are the components of a 'realistic' fight?" Good thing the mighty internet is filled with quotations and articles from masters of the field. The following is from an article about Count Combat (Maeda), who introduced Jiujitsu to Brazil:
According to Renzo Gracie's book Mastering Jujitsu, Maeda not only taught the art of judo to Carlos Gracie, but also taught a particular philosophy about the nature of combat based on his travels competing and training alongside catch-wrestlers, boxers, savate fighters, and various other martial artists. The book details Maeda's theory that physical combat could be broken down into distinct phases, such as the striking phase, the grappling phase, the ground phase, and so on. Thus, it was a smart fighter's task to keep the fight located in the phase of combat that best suited his own strengths.
Distinct phases and distinct strengths and weakness. That's sensible. In D&D you can see it as "archer shoots from a distance, sword-guy wants to sword, and maybe somebody knows how to grapple".
Now check this out, the stat sheet of MMA champion Anderson Silva:
SLpM 3.18 TD Avg. 0.75 Str. Acc. 68% TD Acc. 78% SApM 1.35 TD Def. 69% Str. Def. 64% Sub. Avg. 1.18
SlpM= Significant strikes (that is a big meaty 'lose Xd6 hit points' blow) landed per Minute
Str. Acc= Strike Accuracy of course
SApM= Significant strikes Absorbed per minute, how often you get hit without going down. Sort of a measure of toughness, but it's really best not to get hit.
Str. Def.= Strike Defense, how well you ward away those hits.
TD= take downs
Avg= how many landed per 15 minutes
Acc= accuracy of take downs
Sub= average submission attempts in 15 minutes.
Real world info, and it looks like something from an RPG. We can use this info to build an RPG based on the real world.
Stats are broken down even further with Specific Fight Statistics

STRIKING:
where did the blows land?: HEAD, BODY, LEGS
from what position were the blows launched?: STRIKING DISTANCE (STANDING UP), CLINCH, GROUND
what kind of blows?: JAB, POWER

GRAPPLING:
what kind of takedowns were they?: SHOTS (you tackle him), CLINCH (you grab the guy and drag him)
what positions were taken?: HALF-GUARD, SIDE, MOUNT, BACK
what submissions were used?
-CHOKE: TRIANGLE, ARM TRIANGLE, GUILLOTINE, REAR NAKED CHOKE
-LOCK: SHOULDER LOCK, ARM BAR, KNEE BAR, ANKLE LOCK

There you go. These are the core stats you can build realistic fighters out of as these are the measure of Real World Fighters. 
What comes after this? The system to fit these components in of course, and that goes back to the beginning, Realistic Decision Points
… to be covered at a later time.

Post with 2 notes
Dungeons & Dragons 3rd edition was a popular and versatile tabletop RPG system enjoyed by many, allowing play from low level gritty struggles against orc marauders to epic struggles against the gods themselves. 
By know it's known that D&D begins to get wonky at the higher end of the spectrum, a great article explains it here: http://esix.pbworks.com/f/E6v041.pdf
Basically sixth level is the sweet spot, and the cap on 'gritty' fantasy. Think Lord of the Rings, Conan, heroes are mighty but still have mortal limits. . 
I'm working on a group of classes made specifically for E6, inspired by the efforts done with G6 at: http://www.giantitp.com/forums/showthread.php?t=80811
While G6 is focused on going form level 1-6 in a single class, or entering a Prestige Class, my focus is on broad core classes and a multiclassing system that works. I'm aware of the weirdness in 3e (+0BAB, jacked defenses, etc.) so of course building this from the ground up will have its affects.
An outline of my plan
Core Class and the D&D abilities they include
-Fighting Man (fighting styles, rage, ki)
-Mage-User (bloodline/studied magic)
-Rogue (backstab effects, traps, skill mastery)
-Priest (divine magic, paladin abilities, smiting)
-Shaman (nature magic, shapeshifting)

There will be feats for iconic D&D abilities unclocked by multiclassing ex: "Fighting-man1/Priest1->Smite" to build a Paladin concept.

As you can see I'm leaning towards the latter. Because they cap at 6, each level will have a lot of weight. It also is a nod to old D&D where paladin powers were only achieved at high levels after much questing.

But to start off with "Paladin" or "Bard" types at level 1, I am designing a Feat that gives you a minor ability (lay on hands, cantrips) but your next level up will have to be in Priest or Magic-User to fulfill being a Paladin and Bard.
This feat would be absorbed into the new class, so after you achieve Priest1 it can be respent on something relevant to your new Hero concept. Having a goal in mind for what you're aiming for makes it feel more organic.
So a Fighting-man level 1 on the path of Paladinhood may be able to Lay on Hands
while his buddy at level 1 is focused on slaying. When they both reach Hero level 2, the Fighting-Man/Priest has the divine favor of Paladin, while Fighting-man2 has the advanced skill of one dedicated wholly to martial pursuits.
More to come.